Udyog'19
By the divine Grace of our Guru Maharaj, HH Maharanyan Sri Sri Muralidhara Swamiji, Udyog, the annual career exploration program, a platform featuring experts from various fields inspiring hundreds of high school children, was a huge hit this year as well!
On 22nd of June, the buzzing hall of Bharathiya Vidya Bhavan in Mylapore, witnessed around 300 children from 15 schools across chennai, eager to learn and get inspired, from experts in various fields, who were ready to adorn the stage that morning.
We couldn't have had a better start in the morning than listening to the jaw-dropping, inspirational story of Commodore. Balasubramaniyam, Retired Indian Navy. 'The life of a uniformed person belongs to the nation', with this underlying statement, Cmdre. Balasubramaniyam, quoted various experiences from his life, service, be it in submarines, life in Andaman, and also from the life experiences of other stalwarts, thus conveying and assuring that the core values like integrity, patriotism, selflessness and life skills including crisis handling, decision making, leadership, come so naturally for a person who have chosen army as their career. Needless to say, during this inspirational talk, everyone present or maybe at least the ones who are not for the monotonous 9 to 5 career, were made to envision themselves in the uniform, serving the nation!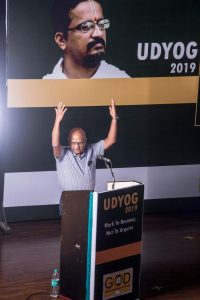 The second speaker of the day was Dr. Navin Jayakumar, who is well known as a Quiz Master and also a successful Ophthalmologist. Dr. Navin being a 'Polymath', walked the children through the 'Medici effect', showing how a breakthrough in new ideas or innovations can happen when various disciplines merge. It was indeed inspiring to know that breaking the barriers of diverse field have resulted in some unbelievable creations like Origami being used in Satellite Solar panel design or artery stent designs, Military camouflage getting inspiration from Cubism art movement of Picasso, Excimer lasers technology used in eye surgery, Physics and movie making and so on. Dr. Navin, who introduced himself as a 'Master of none' as he displayed the efficacy of being a 'jack of all trades', concluded the talk with the takeaway, 'jack of all trades is oftentimes better than a master of one'!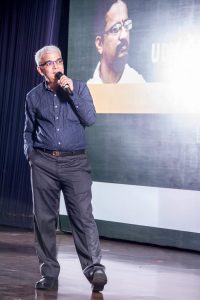 The next speaker was a legendary cartoonist, Shri. Keshav Venkataraghavan, whose cartoons were sought after by many as the first thing in the morning in 'The Hindu' newspaper. Starting with the message pivotal for an artist, "not to have pre-formed notions about anything, rather be inspired with every thing we see", Sri. Keshav narrated his journey as an artist and how he got into cartooning, symbolism and Indian art, emphasizing that igniting the imagination through inspiration is the key to get the artist out of one. In answering questions about the emergence of digital art, he beautifully explained the pros and cons and advised on being adaptive to changes. He mentioned that Indian art is a great treasure, a visual language with symbols and a useful tool in creating a bridge that integrates music, dance, painting, architecture to form a whole system of art.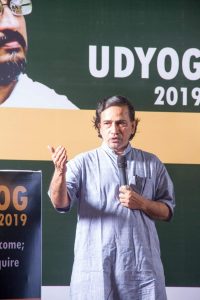 Design architecture was the topic next, presented so well by Shri.Shanmugaraj, who introduced architecture as a piece of art, which when provided with some functioning, becomes architecture. On talking about the course structure, Shri.Shanmugaraj said architecture is fun and responsibility put together and comes with an interesting perk of an architect becoming an integral part of the client's life, even after the work is done.He explained how architecture, as a field growing tremendously with great demand, is an umbrella for so many other fields within, like acoustics, conservation, traveling, movie making, architectural reporters, teaching and so on.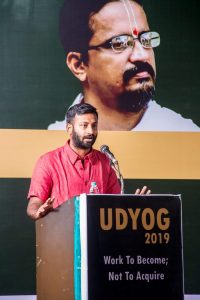 The next speaker was Ms. Vandhana Hari Rangarajan, Principal IIFL wealth, who addressed the children with specific tips on walking the road of success with an important message that success does not come overnight. She encouraged the students to give their best each day, with courage to bring in a change and to tirelessly focus on the strengths, thereby, making the climb easier, be it on a corporate ladder or in running a business on own.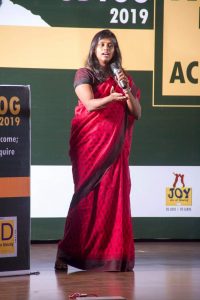 The last session was a Q & A with the successful team of the founders of CHU CHU TV, who shared their inspiring story from being buddies for years, partners in Buddies Infotech, to working together in building a success story together as youtubers. They shared several important points for the students to learn from their story which included carrying on with faith when life throws challenges, being innovative, working in harmony and so on. By creating a quality content for little children with added positivity and inspiration, they have earned millions of subscribers and appreciations from all over the world, which itself, speak volumes on the success of the team of CHU CHU TV !
As the program concluded, the children left the hall feeling inspired, not just by the professional success of the speakers, but also by the values they add to the community as a person, which is sure to kindle their inner drive to make a change in the world!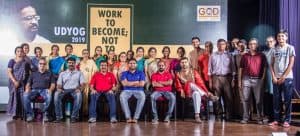 -Smt. Ramya Balaji, GOD India